Press From: The Vietnam Universe Center  Last update 16:16 | 27/06/2017
VN takes step to own universe technology
The Vietnam Universe Center will become a modern science and technology center of the country and top universe centers of ASEAN after project of the National Satellite Center is expected to be put into operation in 2018.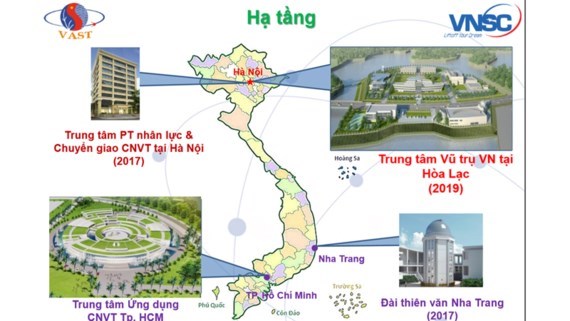 Infrastructure systems of the Vietnam Universe Center.
President of Vietnam Academy of Science and Technology Mr. Chau Van Minh has just signed the Decision No. 1035 to change name of Vietnam National Satellite Center into Vietnam Universe Center which will officially take effective on July 17, 2017.
It marks a new advance to affirm Vietnam takes step by step to access and own universe technology in general and satellite technology in particular.
According to Director of Vietnam Universe Center Prof. Pham Anh Tuan, the center has sent 36 engineers to top five universities of Japan to participate in master courses on satellite technology, design and manufacture of Micro Dragon satellite under the guidance of a Japanese professor.
The satellite will observe coastal region to test quality of water resource, find aquatic source …after it is launched the earth's orbit.
In parallel, project of Nano Dragon satellite is being implemented within three years of 2017- 2019 under donation of state- level Science & Technology Universe Program.
Its mission is to locate position of ships on sea, and the automatic identification system (AIS).
After Micro Dragon and Nano Dragon, Vietnam will launch the LOTUSat-1 radar satellite in 2019, LOTUSat-2 in 2022 respectively.
These are an important component in project of the National Satellite Center which will not only save billions of dong annually by natural disaster but also affirm for Vietnam's universe technology development in satellite manufacture.
Last year, construction and preparation for Vietnam Universe Center was implemented on schedule.
The center served three sectors of satellite technology, universe application and science which were located at the Hoa Lac Hi-tech Park in Hanoi, Ho Chi Minh City and Nha Trang.
After whole system is put into the operation, the Vietnam Universe Center will become a modern science and technology center of the country and a leading universe center of ASEAN.
Construction of the Vietnam Universe Museum at the Hoa Lac High- tech Park, Hanoi is scheduled to put into the operation in 2018. The place will also introduce universe history and science of the world and Vietnam, contributing to raise public awareness about universe.
By 2020, the country will have around 250 young staffs who will be trained to serve for the development of Vietnam's universe industry.
SGGP
Source: http://english.vietnamnet.vn/fms/science-it/181004/vn-takes-step-to-own-universe-technology.html