Author Jaime Lobo
Jaime Lobo
Jaime Lobo Domínguez-Roqueta
Engineer Degree in Aerospace. Escuela Técnica Superior de Ingenieros Aeronáuticos (Universidad Politécnica de Madrid).
Spacecraft Operations Manager / Satellite System Engineer / Flight Dynamics Engineer
Jaime Lobo Domínguez-Roqueta is a Spacecraft Operations Manager with extensive knowledge of satellite systems and related aerospace technologies. He has more than 20 years' experience in the space industry. He has worked in GEO and LEO programs.
He has in depth knowledge of Spaceborne SAR systems due to his previous involvement in the PAZ Program (Spanish SAR LEO satellite based on the TerraSAR-X platform). From 2009 to 2015 he was PAZ Satellite Operations Manager working for Hisdesat ( www.hisdesat.es ).
Currently he works for Es'hailSat ( https://www.eshailsat.qa/ ) as Spacecraft Operations Manager and Senior Flight Dynamics Engineer in Doha, Qatar.
Contact: lobojaime@yahoo.com or jlobo@eshailsat.qa
Yolanda García Quílez
PhD in Fine Arts. Universidad Complutense de Madrid.
Freelance Artist.
As an artist she is interested in the representation of identity through sculpture and painting. She has held solo and group exhibitions in and out of Spain.
Yolanda García Quílez has been a professor at the Department of Sculpture of the Faculty of Fine Arts, CES Felipe II- UCM. She taught subjects related to the processes and materials of sculpture, modeling life sculpture and life casting. Her research areas included sculpture, Chinese art and arts education, with a range of published work in these areas.
Currently she works as a freelance artist in Doha, Qatar.
Contact: yolandagarciaquilez@yahoo.es
GEOINT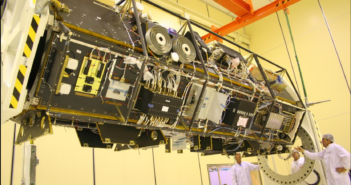 Global Geoglyph's Steganography: Uncovering Hidden Earth Art using Space-Based X-Band Synthetic Aperture Radar. To develop…
Image Processing
Global Geoglyph's Steganography : Uncovering Hidden Earth Art using Space-Based X-Band Synthetic Aperture Radar Presented…